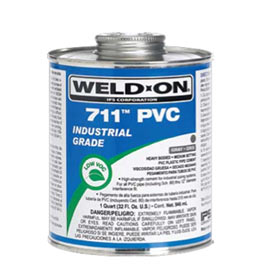 WELD-ON® 711™ INDUSTRIAL GRADE GRAY: Heavy bodied, medium setting, low VOC PVC cement for all classes and schedules with interference fit, including Schedule 80 through 12" (315 mm) diameter. It has good gap filling properties and its medium set allows more working time in warm weather. High-strength formula is ideal for industrial piping systems.
Available colour: Gray
Max recommended pipe size: 12" (315 mm)
Applicable performance specification: ASTM D 2564, NSF/ANSI 14, NSF/ANSI 61, CSA B137.3, CSA B181.2
Industry listing: UPC, NSF
Classes, Schedules & Types: All Rigid PVC
Relative set time: Slow
High Quality Performance with excellent installation properties.
User Friendly. Reduced fumes and odor for the comfort and well-being of pipe installers.
NSF, UPC and/or CSA Listed. Products are qualified for use in piping applications such as potable water, turf, irrigation, pool & spa, industrial, fire protection, conduit, DWV, and/or sewer.
Meet ASTM Standards for solvent cements used for plastic pipe installation.
Environmentally Responsible. LEED® Compliant (Leadership in Energy and Environmental Design). Credit can be gained through the use of Weld-On Low VOC products. This program, developed by the US Green Building Council, uses SCAQMD Rule 1168 as a benchmark to qualify one credit‡ toward LEED certification for green building.
Oil
Chemical processes
Electronics
Gold
Papermaking
Processed foods and beverages
Pharmaceutical operations
Industrial plating
Seawater treatments
Hot spring water distribution